While I haven't been posting I've still been very busy.
My son and his wife have managed to find an affordable apartment, so we are in the process of moving them out of the basement. YEAH! Two years down there was 23 months too long. Now they can have fresh air and sunshine and a happy life, and I can have a storage area and workspace. That is once we get them all moved. They were going to come back over this week to finish, but we are all sick with the yuckies so we'll have to postpone it for a while longer.
In between snow storms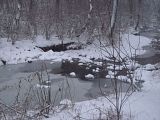 And packing, and cleaning, and everything else that I do with my day, I've been
combing out a very VM filled Cheviot fleece.
It's also, most of the time, filled with cat.
When I shoo her out of there she makes a nest in the combing waste box
We have video of her burrowing down until she's completely covered and hiding from the world. I'll post if up sometime.
I've also been spinning up samples.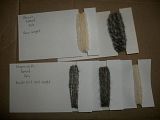 My favorites so far have been Coopworth Bulky or Chunky. I can't wait to get my hands on more of this and make some area rugs. It's so squishy and scratchy soft, plus the luster is amazing. This came from
Homestead Wool & Gift Farm
My other favorite is a Merino/Targhee cross from
Ranching Traditions

I've also been weaving or crocheting with the samples.
That big mass of gray is crocheted Coopworth in bulky. The woven sample on the left was woven on my weavet with left over Coopworth and Cheviot, the one on the right with some of the Merino/Targhee. I'm trying very desperately NOT to buy more of that kind of fleece. I have to take care of all the fleeces I already have. Plus I'm trying to save money for a wheel and 4 pitch combs.
In the next few weeks I'll be finishing up the Fugly afghan, getting the basement cleaned out and a work space set up, making a skirting table (No more skirting on the front porch or living room floor!!) combing out the rest of that Cheviot, and washing up some more wool.